Pharmacy, delivered.
If you take prescriptions, vitamins or supplements—or are a caregiver of someone who does—then ReadyMeds is for you!
We track and transfer your prescriptions, and manage your refills. No need to wait until you're ready for a refill—we can transfer you at any time.
We organize and package your medications into convenient pouches or traditional vials.
We deliver them to your door.
We deliver the pharmacy to you. You'll avoid the hassle of travelling, parking and standing in line for your medication. And our pharmacists are always here to consult with you via your phone or computer—we're committed to care, convenience and relationships.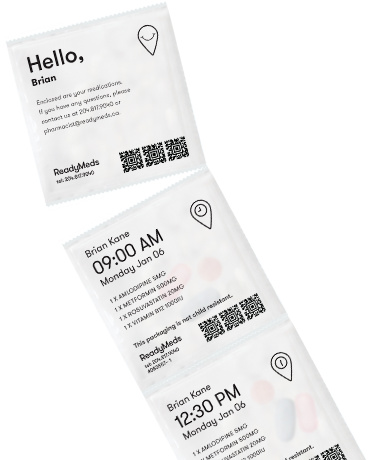 ReadyMeds is
a new kind
of pharmacy
Our service is free.
You don't pay any extra fees for our service or packaging, and there's no delivery charge if you fit within our service area. All you pay for are your medications, supplements and vitamins.
Call, text or email our pharmacists.
If you want to contact us, we're here: ReadyMeds pharmacists are real people who aim to build an ongoing, personal relationship with all of our patients and caregivers. We communicate the way you want to: call, text or email—the choice is yours.
Taking your medication at work? ReadyMeds makes it easy and discreet.
No one wants to bring a pill sorter to work. With ReadyMeds, all you bring is a discreet pouch with all of your doses. It's small enough to fit in a pocket!
Never miss a refill—even with multiple prescriptions.
At ReadyMeds, we track all of your prescriptions, vitamins and supplements, and make sure you never miss a refill. We'll even take care of non-pill items, such as inhalers and creams.
Travelling? Just tear off your doses.
Our pill packaging means that you can travel with peace of mind, knowing that all of your doses are sorted and organized. Just tear off as many days' worth as you need—no need to pack bulky containers in your luggage.
We coordinate with your insurer.
We'll work with your health insurance to facilitate payment or provide the information you need for reimbursement.
Can I transfer my prescriptions now, or do I need to wait until it's time for a refill?

You can transfer your prescriptions anytime! We take care of everything for you: contacting your current pharmacy to make the switch, calling your doctor if required and optimizing your dosing schedule if needed. In fact, it's best to transfer before you need a refill—that way, we can have your profile set up and ready to go.

I take a lot of supplements along with my prescription medication. Can ReadyMeds package those, too?

Yes, we can help to organize your medications, both prescription and non-prescription, to make things easier for you. Please note that, before we package your medications, one of our pharmacists will need to review any non-prescription medications to ensure they're safe and effective to use along with your prescription medications. Also, any non-prescription products must be approved for sale in Canada by Health Canada.

Is there a cost to the ReadyMeds service?

Beyond the standard medication costs and the pharmacy's $12 dispensing fee, there are no additional costs for packaging, delivery or any other added services. We do not charge any dispensing fees for non-prescription medications if there is at least one prescription medication in your order.

Is my health information secure?

Yes, all health information shared with ReadyMeds is kept strictly confidential in accordance with The Personal Health Information Act (PHIA) of Manitoba. All electronic data is stored securely within the pharmacy.

I manage a residential treatment facility. Can ReadyMeds help my staff organize medications for patients?

Yes, we have a great deal of experience in the field of residential care. Please contact us with specific details, and we can help find specific solutions for your organization based on your policies.

Is ReadyMeds an online pharmacy?

While ReadyMeds offers the convenience of being online, we're also a physical pharmacy located in Winnipeg, Manitoba, providing pharmacy services exclusively to our fellow Canadians. Meet the team.